POTOK ELIZY
Potok, lub jak również chętnie nazywany, Wąwóz Elizy to doskonałe i mało uczęszczane miejsce spacerowe w Sopocie. Wiedzą o nim głównie mieszkańcy, a szkoda, bo z miejcem tym związana jest legenda o podziemiu krasnoludków.
Potok Elizy przez wiele lat był znany mieszkańcom miasta pod nazwą Potok Haffnera, na cześć jednego z założycieli Sopotu. W 2011 roku teren potoku przeszedł gruntowny remont, którego zwieńczeniem była zmiana nazwy na Potok Elizy.
LEGENDA O SOPOLUDKACH
Ta historia mogłaby zacząć się jak każda typowa bajka. Dawno, dawno temu, niedaleko plaży mieszkały kiedyś krasnale nazywane przez wielu "Sopotludkami". Były one niezwykle przyjaznymi stworzeniami, które przyjaźniły się z wszystkimi - zarówno magicznymi jak i tymi niemagicznymi mieszkańcami Zatoki Gdańskiej. Krasnale były też wyjątkowo odważne. Nie bały się niczego i nikogo. Oprócz burz, które niestety często nawiedzały te okolice. W pewnym momencie postanowiły jednak rozwiązań problem tego strachu i schować się pod ziemię. We wzgórzach, które otaczały Sopot utworzyły zatem podziemne miasto, w którym nie brakowało długich oraz krętych korytarzy i jaskiń. Kiedy tylko przychodziła burza, szybko uciekały w to miejsce i chowały się tam.
Opiekę nad kluczami do tej kryjówki powierzono krasnalowi "Kłódkiewiczowi". Na czele sopockiej społeczności krasnoludki stał natomiast dziadek Krasnaliński. Mimo że był on już stary, cechował się ogromna energią. Często zdarzały mu się sytuacje, że wraz z lokalnymi ptakami wybierał się nad Zatokę Gdańską. Podczas jednej z nich zobaczył wielką, ciemną burzową chmurę, która biegła po niebie w stronę Sopotu. Postanowił więc zawrócić jak najszybciej, aby ostrzec inne krasnale...
Reszta historii dostępna podczas spaceru na kamiennej tablicy w okolicach Potoku Elizy :)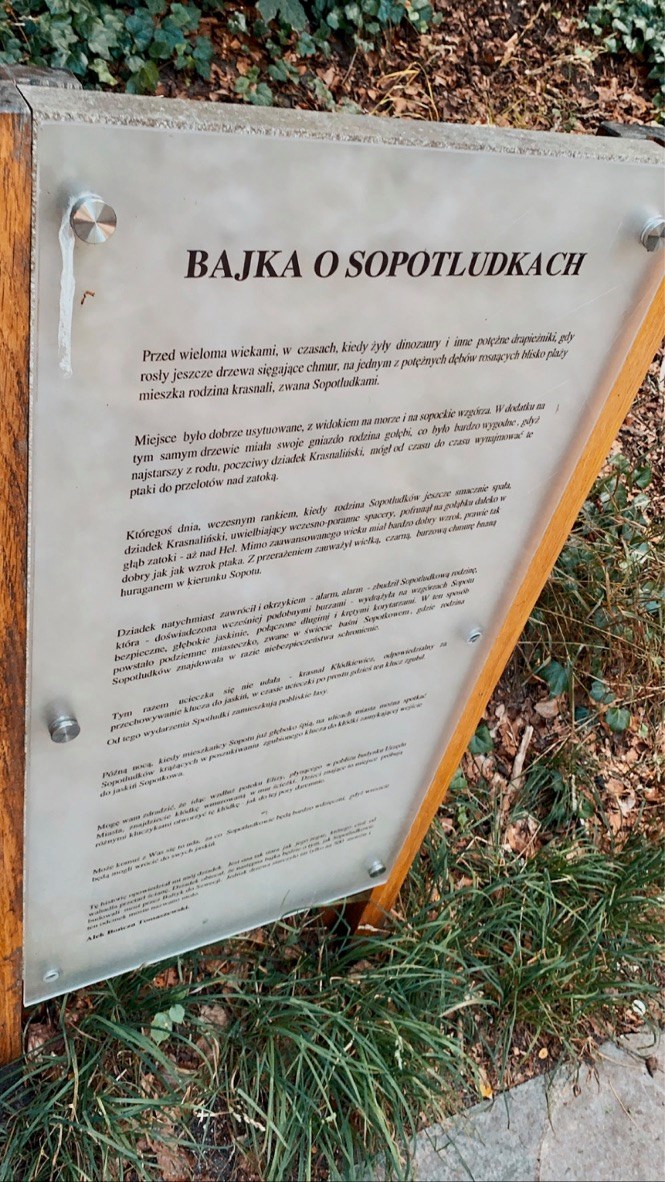 Potok Elizy znajduje się pomiędzy ulicą Tadeusza Kościuszki, a ulicą Jana Sobieskiego, czyli praktycznie w samym centrum Sopotu. Najłatwiej tam dotrzeć spod przystanku Szybkiej Kolei Miejskiej, kierując się w stronę ulicy Tadeusza Kościuszki i Urzędu Miasta.